Enterprise
5G
Disaggregated, distributed and intelligent organizations, with better sustainability and profitability for the future.
Advisory
NTT DATA's consulting practice has unrivalled experience and know-how in the 5G space. No-one is better placed to help you develop effective, high quality services for the Enterprise market, enabling your clients to serve their customers better, in partnership with you.
5G MEC led digital transformation for industry 4.0
The key characteristic of Industry 4.0 will be transformationally improved customer experiences, and they key to delivering those is Multi-access Edge Computing (MEC), which turns telecom and mobile systems into intelligent, networked cloud, with computing power in Edge devices and the high bandwidth, low latency power of 5G to enable disaggregated and truly distributed intelligence.

Radio Network Planning and Optimisation Services
Building optimal 5G enabled networks requires highly efficient planning services to deal with the complexity of the emerging RAN environment. To make sense of mMIMO, network slicing options, private networks, with new frequency bands and scenarios requires specialist skills and tools. NTT DATA's consulting team offers them both.

SD-WAN Design & Delivery for 5G Edge / Cloud Solutions
By using SD-WAN efficiently, you can provide application-aware, high QoS services to end users, connecting multiple Edge endpoints with maximum security, superior user experience and on a geographically agnostic basis.

Solutions
NTT DATA is a global leader in developing advanced solutions for 5G, Edge and intelligent networked cloud. Our ready to use solutions form the basis for targeted, customized services that enable you to move fast and monetize your investments effectively.
NTT DATA's Private 5G Campus solution provides a disaggregated, secure, virtual development space in which complex teams of developers, product experts and end users, drawn from multiple organizations and locations can work efficiently together. Campus fosters high-performing collaborative teamworking to develop services efficiently and securely, contributing to competitive advantage and fast monetization.
Download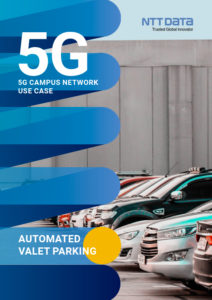 5G Use Cases by Vertical Industries
Advisory

NTT DATA's consulting practice has unrivalled experience and know-how in the 5G space. No-one is better placed to help you develop effective, high quality services for the Enterprise market, enabling your clients to serve their customers better, in partnership with you.

5G MEC led digital transformation for industry 4.0

The key characteristic of Industry 4.0 will be transformationally improved customer experiences, and they key to delivering those is Multi-access Edge Computing (MEC), which turns telecom and mobile systems into intelligent, networked cloud, with computing power in Edge devices and the high bandwidth, low latency power of 5G to enable disaggregated and truly distributed intelligence.

Radio Network Planning and Optimisation Services

Building optimal 5G enabled networks requires highly efficient planning services to deal with the complexity of the emerging RAN environment. To make sense of mMIMO, network slicing options, private networks, with new frequency bands and scenarios requires specialist skills and tools. NTT DATA's consulting team offers them both.

SD-WAN Design & Delivery for 5G Edge / Cloud Solutions

By using SD-WAN efficiently, you can provide application-aware, high QoS services to end users, connecting multiple Edge endpoints with maximum security, superior user experience and on a geographically agnostic basis.

Solutions

NTT DATA is a global leader in developing advanced solutions for 5G, Edge and intelligent networked cloud. Our ready to use solutions form the basis for targeted, customized services that enable you to move fast and monetize your investments effectively.

NTT DATA's Private 5G Campus solution provides a disaggregated, secure, virtual development space in which complex teams of developers, product experts and end users, drawn from multiple organizations and locations can work efficiently together. Campus fosters high-performing collaborative teamworking to develop services efficiently and securely, contributing to competitive advantage and fast monetization.

Download

5G Use Cases by Vertical Industries